The Self-Publishing Aficionados!
01792 687867
Thanks for stopping by! As you've probably guessed, we're self-publishing aficionados! We're a small team of design and publishing professionals that teamed up in 2013 to offer our expertise to authors in the UK and beyond; and we're still going strong! We love what we do and we hope that shows in our work. We have over 25 years combined experience in the publishing industry, so you're in good hands! Take a look around, and please just let us know if you have any questions.
We're the only UK self-publishing business to guarantee the same quality design & formatting as the UK's top traditional publishers!
Any questions? let us know.
One of our authors has hit the No.1 bestseller spot on #kindle. Congratulations David Collison. 👏👏🍾🍾 We're glad we could help👍 #Andalucia #aplaceinthesun #selfpublishing #writers #amwriting #writing https://t.co/Bm2TLgCnR8

— Socciones Publishing (@Socciones) 10 July 2018
A Lot of Fuss About a Duck: The perfect holiday/poolside read for the ladies. Get it now on Kindle & Amazon (paperback). 5* reviews. #chicklit #Kindle #KindleUnlimited #BeachReads https://t.co/K0kNEVfug6

— Socciones Publishing (@Socciones) 10 July 2018
Check out Cargoes and Capers: The life and times of a London Docklands man by Johnny Ringwood.👍 #docklands #merchantnavy #WW2https://t.co/Qat00MFRJg

— Socciones Publishing (@Socciones) 10 July 2018
Professional publishing from only £399
Our Packages
We offer two professional publishing packages: Kindle, Kindle & Print. Both packages enable your book to be distributed to a worldwide audience via Amazon, the world's largest book & eBook store. Our packages include professional cover design, which is an essential element of the publishing process; readers DO judge a book by its cover, after all! Also, we don't just layer text over stock images! Our formatting and typesetting is done to traditional publishing industry standards, and we promise your book will look no different to a traditionally published book by any publishing house.
What's Included?
Kindle
£399
£50 deposit
Professional Cover design
HTML/CSS formatting (Industry standard)
Typesetting
Proofreading of Amazon sample pages
Proofreading of book description
Publishing account setup
You keep 100% of royalties
Up to 70% royalty rate
Marketing advice
Full long-term support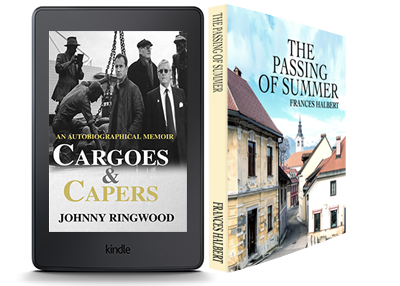 Kindle & Print
£499
£99 deposit
Includes Kindle package
Print on demand setup
Proofreading of Amazon sample pages
Proofreading of book description
Print formatting
Full cover design
Paperback publishing to Amazon
* Please note that manuscripts with multiple images may incur further costs.
Most commonly asked question
Any questions?
FAQ
Why choose us?
We deal exclusively with Amazon

We format Kindle eBooks using HTML/CSS code (Traditional publishing industry standard)

We know the industry inside out

We pride ourselves on our excellent customer service

We guarantee your book will look no different to one published by Penguin Random House, HarperCollins etc.

Check out our cover designs, then compare with other self-publishing companies!

We take care of everything, then hand publishing accounts over to the author

We'll forward you digital proofing files for approval prior to publication

We won't charge you if you need to make amendments once published*

Family-run business (Yes, we do sometimes argue!)

Excellent author feedback

You won't find better value for the service we offer

Our publishing packages are all you need to be a successful author
* Providing the whole manuscript does not need reformatting.
Here's what our authors think…
Stephen Williams
Author of Heroes and tiny giants
Many thanks for your guidance over the past weeks. It was an anxious time for us doing something that we were unfamiliar with but you made our journey much easier than we expected. Thank you for always being polite and prompt in your replies. "We were always kept in the loop and there we no hidden costs. Everything was as you said from the start. We had an exciting and professionally run experience. Many thanks."
Stuart Michaels
Author of Nothing's forever
'I'd like to thank all at Socciones Editoria Digitale for their help in publishing Nothing's Forever. Their approach was very professional, any queries I had were answered quickly and the whole process was undertaken without a fuss. Thank you.'
Susan M Arrowsmith
Author of Finding Bertie & The diary of a modern day white witch
"Publishing with Socciones has been a good experience because you have taken all the worry out of the process and I know I can trust your expertise. I hope to work with you again soon."
Allan Finnigan
Author of PURE GENIUS & PURE NONSENSE
'I have now had two books published by Socciones. My second book contains unorthodox layout poetry and prose, these were sensitively formatted to present the shape and form of my work in precise detail. Both books greatly benefit from having brilliant covers designed by Socciones. I can wholeheartedly commend their professional services to any author seeking to have a manuscript published to print or as an eBook.'
Chris Raman
Author of Only fools and losers
Extremely pleased with the service. Great cover design & layout.
Mark Woolridge
Author of Unconsecrated Ground
The service was exactly as advertised "on the can" and I will be using it again.
Martin W Bidzinski
Author of The soccer coaching manual & Soccer Ergonomics
Friendly, professional service. Would certainly recommend. Very happy!